Ave Verum Corpus
Purchase through Trinitas (OCP)
or email: liturgy@ocp.org | 1-800-548-8749
for SATB a cappella choir (organ or piano may lightly accompany)
Seasonal Use: General, Holy Thursday
Liturgical Use: Communion
Topic: Eucharist
Music by Scot Crandal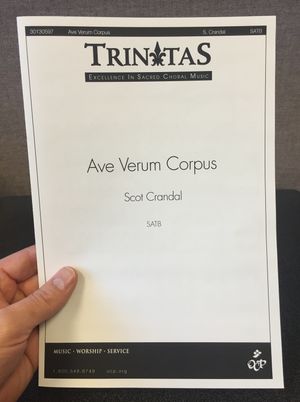 REVIEW
"This text is always appropriate in liturgy, particularly after Communion. There are numerous acclaimed choral settings: Mozart, Palestrina, and Byrd, just to name a few. This setting by Scot Crandal is not to be overshadowed by those time-tested settings written several hundred years ago. A gifted composer, Crandal skillfully brings in elements of the ancient but with a current choral sound. The first phrase of the piece begins in a chant-like upward motion sung by the men. Repeated by the full choir, it is the springboard for lush yet simple choral writing. I'm a fan of splashes of dissonance, and Crandal successfully includes them. Lest too much of a good thing become exhausting, there is a perfect balance of effective unisons, seconds (crunchy chords), and broad, opulent choral writing. Its length is a benefit at only 37 measures—ideal for a post-Communion motet. 
This setting of "Ave Verum Corpus" is interesting and calming when interpreted with sensitive rubato. Advanced choirs will find the setting approachable. Less-skilled choirs should not overlook it; it is well worth any rehearsal time needed." 
-Angela Westhoff-Johnson 
Mary's Cathedral, Portland, Oregon Music Director, St.
(as printed in Today's Liturgy)
 
COMMENTS

"Gosh I love this piece. I loved it when we recorded it and I've listened to it another four times. So glad you shared the recording!! Congrats, it's fabulous." -Cecily Kiester 

"This gave me goosebumps" -Peggy Burrough 

"Stunning... Absolutely gorgeous." -Molly Jo Bessey Rivelli

"...a foretaste of Heaven. Beautiful!" -Arthur Roach
LATIN
Ave verum corpus, 
natum ex (de) Maria Virgine, 
vere passum, immolatum 
in cruce pro homine, 
cuius latus perforatum 
unda fluxit et sanguine: 
esto nobis praegustatum 
in mortis examine. 
O Jesu dulcis, O Jesu pie 
O Jesu, fili Mariae, 
miserere nobis. 
Amen.
ENGLISH

Hail, true Body, 
born of the Virgin Mary, 
which truly suffered, sacrificed 
on the cross for mankind, 
from whose pierced side 
flowed a gush of (water and) blood: 
be for us a foretaste (of heaven) 
in the trial of death. 
O sweet Jesus, O holy Jesus, 
O Jesus, son of Mary, 
have mercy on us. 
Amen.
ORIGIN
"Ave verum corpus" is a short Eucharistic hymn that dates from the 14th century and has been attributed to Pope Innocent VI. During the Middle Ages it was sung at the elevation of the host during the consecration. It was also used frequently during Benediction of the Blessed Sacrament. 
The hymn's title means "Hail, true body", and is based on a poem deriving from a 14th-century manuscript from the Abbey of Reichenau, Lake Constance. The poem is a meditation on the Catholic belief in Jesus's Real Presence in the sacrament of the Eucharist, and ties it to the conception of the redemptive meaning of suffering in the life of all believers.