Hymn to the Spirit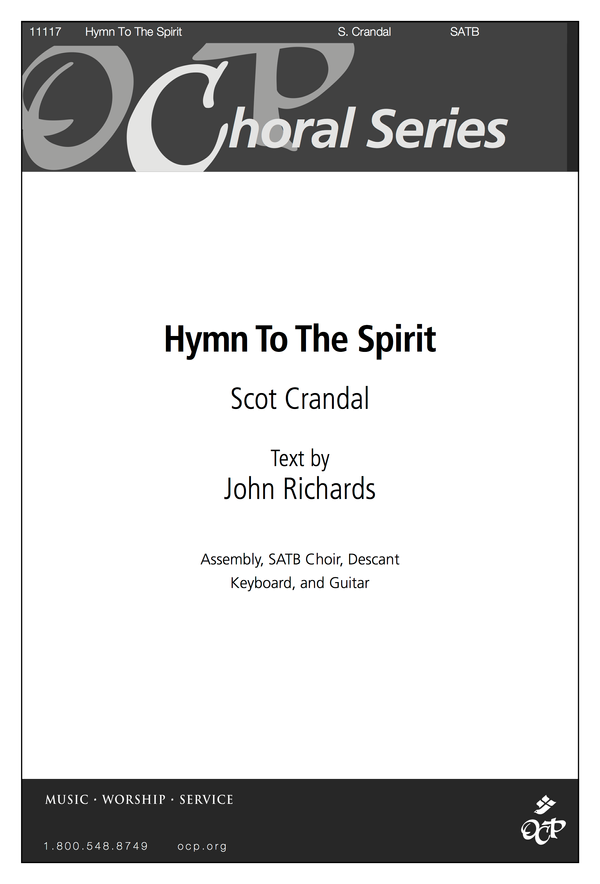 Music by Scot Crandal
Text by John Richards
Click
here
for a preview PDF copy. Ordering info: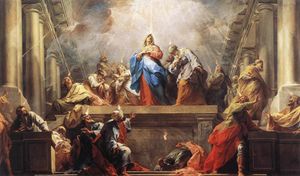 A depiction of the Pentecost, painted by Jean II Restout, 1732
SEASONAL: Pentecost 

TOPICAL: Holy Spirit 

RITUAL: Confirmation, RCIA, Adult Formation 

METRICAL: 87 87 D 

HYMN TUNE: STOLTZ (by Scot Crandal)
"Thank you to Rob Stoltz who originally showed this text to me, thus the hymn tune name, STOLTZ." 
—Scot
Upbeat, with parts for: SATB, descant, keyboard, guitar, and congregation
The text of this piece presents a widespread vision of the Spirit's role, making it especially useful for Pentecost or any celebration with the Holy Spirit as a theme. Each verse describes a different, biblical perspective of the Holy Spirit.
Here is just one example of practical use, adding congregational participation as desired: 
verse 1: Cantor 
verse 2: Men 
verse 3: Women 
verse 4: SATB 
verse 5: Unison with descant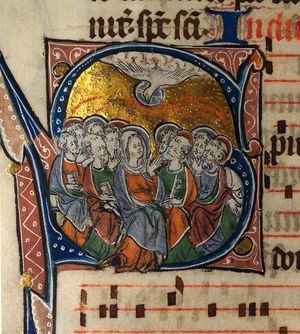 The Pentecost depicted in a 14th-century Missal
Spirit, working in creation,
Bringing order out of strife:
Come around God's gathered people,
Giving harmony and life.
Spirit, speaking through the prophets
So the voice of God was heard:
Come, inspire, alert your people
To today's prophetic word. 

Spirit, overshad'wing Mary
As the Christ-child in her grew:
Come, so that the Christ within us
May today be born anew.
Spirit, coming from the Father
As a dove upon our Lord:
Come upon your favored people
And your blessings be outpoured. 

Spirit, driving to the desert
Even God's Anointed One:
Come to us in trial and testing
That God's will in us be done.
Spirit, bringing freedom, blessing,
Help to poor and health to lame:
Come anoint us, that such wonders
May be done in Jesus' name. 

Spirit, taking, breaking, making
Bread and wine our heav'nly food:
Come and take us, break us, make us,
Live Christ's life in us renewed.
Spirit, breathed on the disciples,
Giving peace where there was fear:
Come amongst us, touch us, send us,
Making Jesus' presence near. 

Spirit, wind and flame, empow'ring
Fearless witness to the lost:
Come, unite, "renew your wonders
As of a new Pentecost."
Praise and glory, Holy Spirit,
For your love on us outpoured:
Giving honor to the Father
And proclaiming Jesus Lord.


Text by John Richards, b. 1939 
"Spirit, working in creation, bringing order out of strife: Come around God's gathered people, giving harmony and life. "