With Empty Hands and Empty Hearts
Text by Genevieve Glen, OSB • Music by Scot Crandal
USAGE  
Well-suited to celebrate the Year of Mercy announced by Pope Francis
Seasonal: General Usage
Liturgical: Gathering/Opening, Preparation of the Gifts
Ritual: Holy Orders, Ordination
Topical: Social Concern, Faith, Longing for God, Petition/Prayer
Two versions included: 1) choral anthem 2) simple hymn for congregation

for any combination of Congregation, SATB Choir, Descant, Keyboard, Guitar, and Solo Instrument

METER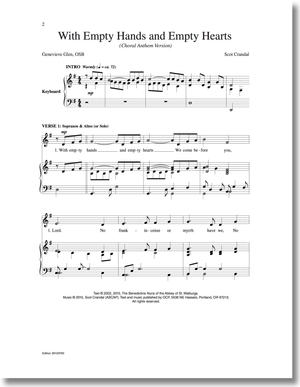 Click
here
for a preview PDF copy
ORDER
(edition # 30133791)
online: OCP website
phone: 1-800-LITURGY (548-8749)
email: liturgy@ocp.org
TEXT
With empty hands and empty hearts 
we come before you, Lord.
No frankincense or myrrh have we,
No gold can we afford.

We bring instead our aching want,
thin cries of hollow need,
the desert wastelands of the soul:
with these alone we plead.
Have mercy on our unbelief,
forgive our loveless ways,
Take pity on our hopelessness:
Come, mend our threadbare days.
Accept, O Christ, these voiceless words,
our prayer of emptiness;
fill all our barrenness with love,
bless prayer with fruitfulness.
Text © 2002, The Benedictine Nuns of the Abbey of St. Walburga. From the collection, Voices from the Valley, which is published by OCP. All rights reserved.
TEXT COMMENTARY
Carmelite poet Jessica Powers inspired this text with her lines: "If you have nothing... lift up your emptiness!"
(If You Have Nothing). 
This hymn is the prayer of the poor in spirit who have nothing to offer God—no wealth, no virtue, no achievements, nothing but our need. We dare to offer it in confidence because Christ himself chose to share our poverty when he took on human flesh capable of hunger, thirst, and the dreadful abandonment he felt on the cross. Through him, our very emptiness can bear fruit!
—Genevieve Glen, OSB
SCRIPTURE REFERENCES   
Matthew 5:3 
Verse 1: Matthew 2:11 
Verse 3: Mark 9:24 
COMPOSER NOTES

This setting of Benedictine Sister Genevieve Glen's humble, heartfelt text is presented in two ways for maximum practicality.

The choral anthem version provides an arrangement for keyboard (organ or piano), SATB choir, descant, and solo instrument. It begins simply then adds textures and harmonic interest. The fourth verse begins with the thought-provoking phrase, "Accept, O Christ, these voiceless words..." with the choir at full voice, underscoring an earnest desire to connect with God.

The congregational version allows for flexibility, perhaps with the first and/or second verse being sung by a cantor or choir. The descant from the choral anthem version could also be added during the fourth verse.
—Scot Crandal